From February 13 till 26, during nights GMT time, our Web hoster migrates web sites and databases from Paris to North of France. Service can be interrupted during a few tens of minutes...

You are in the Author Portal
2019 35th Thermal Measurement, Modeling and Management Symposium (SEMI-THERM)
Please do read important information below before submitting an abstract and other data!
The language for the conference and its publications is English.
Having submitted an abstract and having it accepted by the Technical Committee represents a commitment to submit a cleared manuscript by the publication deadline for the conference Proceedings.
It also represents a commitment to either attend the conference or send a knowledgeable substitute who is qualified to present the material and answer questions regarding the reported work.
Prior to the final manuscript or presentation deadline, authors are required to register for attendance at SEMI-THERM 35 (Attendee Registration) and pay the discounted speaker fees. Housing and transportation are the responsibility of the speaker.
It is the author's responsibility to obtain internal company approvals consistent with the above terms and stated deadlines.
The SEMI-THERM Educational Foundation (STEF) reserves the right to exclude a paper from distribution after the conference if the paper is not presented at the conference. Papers excluded from further distribution may still be archived in the STEF database.
Read the

Call for Papers
Get the

STEF Copyright Form
SEMI-THERM 35 important dates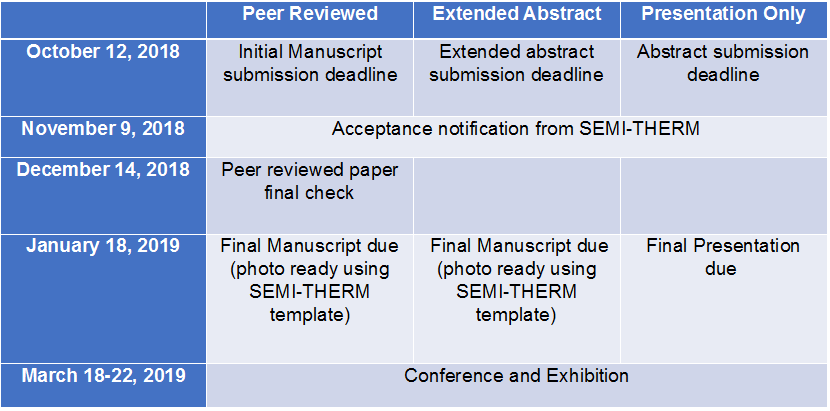 This section is closed for now.
What can you do here ?
This is the place for you to complete all operations related to your final paper:
Before writing your manuscript (your full paper): get the Author Kit, i.e. download the template(s) to write your final paper.
Once you have finalised your manuscript and registered to the event, your "paper key" is emailed to you. It is a unique string of characters allowing you to achieve those tasks:
you must post (upload) your manuscript
you must post the full list of authors of your manuscript
you may post your short biography
you may post a short textual abstract
you may post (upload) your signed copyright form
Step 1: get Author Kit
Please use a template for your final manuscript:
You may use the following template for your poster (but it is not compulsory, you may design your poster as you like):
Step 2: post manuscript and other data, electronic Copyright Form
Once you receive your "paper key", you can perform the following operations and repeat them as many times as wished until final deadline:
(mandatory) post your final "manuscript"
(mandatory) post the list of all Authors
(mandatory) transfer copyright of your paper to STEF by posting your signed copyright form
(highly wished) post a short textual abstract (to appear in the published Web technical programme)
(highly wished) post your short biography, to be read by session chairman
(optionally) post your presentation
Why a paper key ?
The "paper key" is a unique secret key linked to your abstract-manuscript, mandatory to post or update your manuscript and other data.
You receive it by email after you have successfully registered to the event.
In case you are the happy author of several accepted abstracts, you will receive as many paper keys as accepted abstracts.
Please paste the paper key in the text box
Continue
FAQ
I want to alter the title of my manuscript:

please notify the Technical Committee chairman, who will update your paper record, you cannot do it yourself.

I did not get my paper key by email: please contact the organiser
Why should I post my biography?

your biography will be passed to the chairman of the session where is scheduled your presentation, so that he/she can introduce you to your audience

Why should I post a "short textual abstract"?

This short abstract will be available on the online programme, participants may then decide to attend your presentation. This is not mandatory.

Why should I post my final presentation?

It is not mandatory. It may act as a backup in case you lose or break your media, as it will be available to chairman of your session. You can update it until the very day of your presentation.